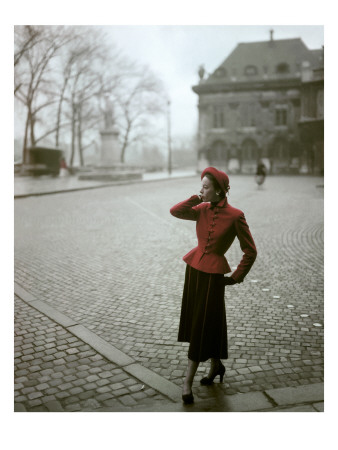 Establishing his own fashion house in 1946 with the backing of Marcel Boussac, in 1947 Christian Dior launched his first collection for spring/summer; marking a changing point in women's fashion moving away from the more sombre and practical wartime wear to the female shape. This collection was all about femininity, with shorter hemlines showing off ankles and fuller skirts, the waist took central stage in the outfit, being further accentuated by broad shoulders. The outfits were padded out usually with percale, a plain weave to create the illusion of curves. It was quickly dubbed the 'New Look' in Harper's magazine.
The classic New Look silhouette.
Narrow waist and broad shoulders
Dior wanted to "Bring back beauty, feminine clothing,
s
oft rounded shapes and full flowing skirts"
Dior himself felt that women's fashion had grown too masculine during the war years and attempted to combat this in his designs. This New Look was also nostalgic as it reminded of a greater, romanticised time during the Belle Epoque, and the styles are similar.
However not everyone agreed with this revert back to old ways with Rob Wagner arguing "
He seeks the ballet dancer illusion - natural, rounded
shoulders
, too weak to support a struggling world...Her waist is pinched in an exaggerated indentation, the better to emphasize her padded hips". The British Royals were keen to view the New Look calling for their own private viewing, although not making any purchases as rationing was still on clothing and they couldn't justify the expense it took to make each item, but the rest of the general British public embraced it

"
stampeding West End shops for the built-in
New Look
."
Similarities to the Edwardian and Belle Epoque period
The New Look continued to influence designers worldwide for many years to come, unfortunately for us Dior had a premature death passing away in 1957, and who knows what revolutionary new designs he may have come up with but I think Yves Saint Laurent did a pretty good job too!
Marlene Dietrich wore exclusively Dior in film Alfred Hitchcock 1951
How the look could be reflected today. Dior '11 collection