Summer and the holidays are just around the corner so it's time to begin looking for beachwear that suits you, and equally that you feel confident in. I feel vintage style swimsuits are perfect for every body shape, just like a lot of 50s dresses are too. They always seem to hug you in the right areas and I also love the feminine colours and patterns. Take a look at some of the typical vintage shapes below to find your perfect swimsuit.
Perfect for curvy women
These work great for boyish figures
Petite and hourglass ladies should try these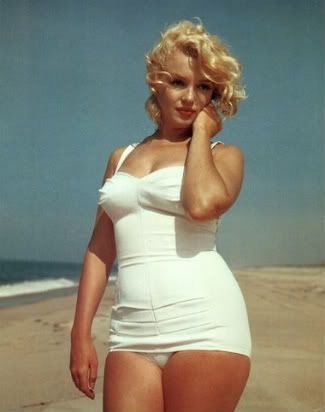 I LOVE this swimsuit shape, with the halterneck and ruching I think it looks most flattering on larger ladies. Pictured on Marilyn Monroe in the 60s this swimwear look has become a popular favourite.
This is a similar shape to above but in a two-piece so shows a little more flesh. I really like the high waisted bottom